2014
"We at Ditto just loved them this year!! I don't know what we would do without them."

"The lead as well as the kids have done MARVELOUSLY and are more than we could have asked...have been a huge blessing to our church facilities and community."

"Very impressed with the team's demeanor and willingness to work."

"They are AMAZING! They are some of the best students I have ever worked with...I would highly recommend them to any organization. The team leaders are also outstanding."

"Spent some time initially fixing mistakes, but eventually [they] got the hang of it and did very well."


Powered by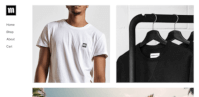 Create your own unique website with customizable templates.