When Ottawa County Parks inherited Paw Paw Park, located on Paw Paw Drive, across from Macatawa Greenspace, they knew there was a lot of work to be done. "The existing park just hadn't been used much, and wasn't up to our standards," said Melanie Manion, Ottawa County Parks Natural Resources Management Supervisor. The two-year improvement plant will cost $125,000 and feature mostly trail improvements and signage to open up the area for people to get outdoors and be more physically active.

Fortunately, they landed two great teams through Holland Youth Connections to aid in the grunt work. Mario Landin and Nicole Hoshor supervise ten kids who have spent the past weeks removing the invasive species Garlic Mustard, as well as Honeysuckle, Buckthorn, and other harmful invasive plants that threaten to take over the native species growing in the park. "We work hard in the heat or rain to get the job so we can be proud to say, 'Yes, that's our work!' in the end," says Mario Landin, HYC Supervisor.

In the process, the team has made friends with each other and with Ottawa County Park Employees who help direct their work. Developing a family within the work teams has been a really cool part of the program for everyone involved. This team is doing great work to make their corner of Holland a better place for everyone!
Powered by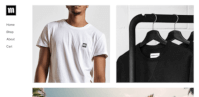 Create your own unique website with customizable templates.