Ken Wells leads a star-studded cast of young people helping the City of Holland Transportation Department this summer. Whether you notice it or not, the maintenance of city signage, roadways, and city-owned vehicles is overseen by the Holland Transportation Department. Ken's team helps by washing vehicles, clearing alleyways and parks throughout the city, keeping the garage clean, and doing landscaping work around the headquarters. Who are the honorable ones who comprise this team? Autumn Lochridge. Kayonia Wilburn. Manny Bueno. Matthew Ackavong. Marvin Teran. Here's a firsthand testimonial from Ken's team last week:

"Yesterday as we were cleaning an alleyway near Maple & 17th, when of my team took it upon themselves and began to remove the old vines that had overgrown a wooden fence belonging to an elderly Hispanic woman. The woman was overcome with joy and gratitude, so much so that she offered the team water and refreshments. She said the vine had been there for years (thanks to Matthew for interpreting her Spanish!). The kids were hyped because they had the opportunity to help out not only the community but someone with a present need!"


Powered by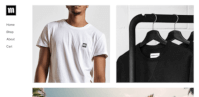 Create your own unique website with customizable templates.