It takes a village to raise a child. It takes a community to give hundreds of youth the opportunity to learn work habits, grow into adulthood, and become valuable contributors to our society. This program could not happen without private and corporate donors. Your donations help enable teams work at sites (such as non-profits, churches, and small businesses) that cannot otherwise pay for a team, cover administrative costs, and allow for kids to experience other job skills and life skills classes as part of the Holland Youth Connections experience, Here are a few ways you could help.
Sponsor a team to work for seven weeks ($6,300)

Sponsor a team to work for five weeks ($4,625)

Sponsor a team to work for one week ($925)

Sponsor team supervisor to work for one week ($200)

Sponsor one youth to work for one week ($110)
You can help connect youth with a great job by giving securely online!

You can also send a check to the address below. Checks can me made out to "ESCAPE YFGK" with "Holland Youth Connections" in the memo line.

Escape Ministries
202 E. 32nd St.
Holland, MI 49423




Powered by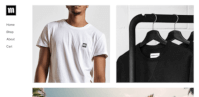 Create your own unique website with customizable templates.